…. have a friend who needs to re-home some pigs!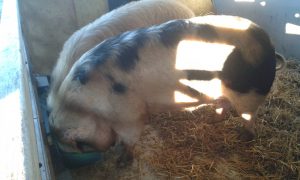 2017 has seen us take on a new venture as pig farmers. Just 2 sows, which I think will be plenty on top of all the other animals. We are delighted to have re-homed Blossom and Bramley from New McDonalds Farm in Wiltshire. They were looking for a different breed but couldn't bear the thought of these lovely, and still young, sows going for the chop.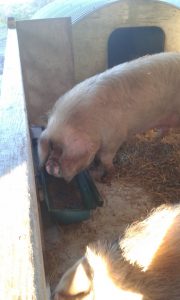 They are both Gloucester Old Spots and have a lovely docile temperament, although don't get in the way of Bramley and her food! We are borrowing a boar to do the business and then hopefully have our first piglets in summer 2017.
Meanwhile as we have pretty much run out of pork and sausages, we have done our usual thing of buying a couple of weaners to fatten up for meat.