Open Farm Days
We allow people to come visit the farm throughout the year, but sometimes we organise and put on Open Farm Days. Below you can see what we did for our previous Open Days and we hope to get another organised for sometime this Summer…
Previous Baby Goat Open Days
Saturday 22nd April 2023 – Baby Goat Open Day
What's on…
– loads of baby goats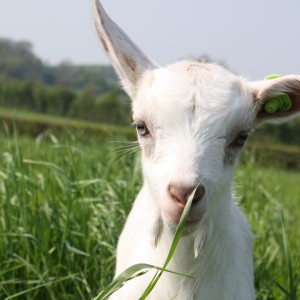 – meet the other animals – donkeys, pigs, sheep and some more goats
– art workshop
– pottery workshop
– foraging walk
– tractor trailer rides (dependent on ground drying up)
– hot food stalls
– bar
– nature trail
– farm shop/produce stall with lots of goats cheese to try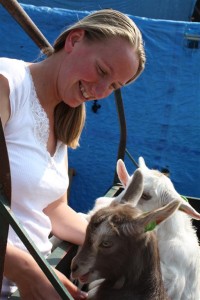 Open Farm Sunday in 2015 – 7th June, 11am to 4pm
What's on…
– Milking demonstration
– Cheese-making demonstration (how to make a fresh soft goats cheese at home)
– Sheep shearing
– Tractor trailer rides
– Children's actvities
– Pet the baby goats and even take one for a walk!
– Vintage tractors
– Stalls and face painting
– BBQ, cream teas, cakes, local cider and more…
2014…
We took part in open farm Sunday for the first time last year (2013) and again this year (2014). It is a nationwide event which offers a chance for people to visit a local farms and see first-hand what happens. Last year's theme was 'Discover the story behind your food' so it was a great opportunity for people to see an example of how food is produced on a small family run dairy goat farm.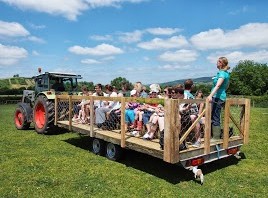 Here's some of what's happening on Sunday 8th June 2014
11am – Open
11.30am – Milking demonstration
11.30 onwards – BBQ, Teas, Coffee, Cold drinks, Ice cream milk shakes and Cakes galore.
11.30 onwards- Tractor and trailer rides
11.30 – 1.30 – Welly Wanging competition
2pm – Prize giving for the welly wanging
3.30pm – 2nd milking demonstration
All day – Meet the animals, pet the baby goats
All day – Nature treasure trail
All day – Samples of produce
All day – Produce for sale in the farm shop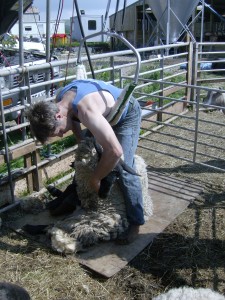 New for 2014 – Sheep shearing (throughout the day)
And Dress the scare crow competition
Plenty of space in the barns and marquees so come along rain or shine!
No need to book, just turn up. To find us take a look at our directions page then signposted one way system to leave (to avoid congestion on the lane)
Here's what was written about last years event (2013)
It really did shine that day and we were delighted with how many visitors came.
A hugely successful and enjoyable day was had by all when Ian and Sarah Davies opened up Wookey Farm on 9th June for the open farm Sunday event which is held annually around the country. There were milking demonstrations, tractor trailer rides, a BBQ, very competitive welly wanging and lots of animals to meet including the goats and their adorable kids, 3 little piggies, 20 sheep and their lambs, some hens and Pickles the donkey.
Sarah said "the weather was gorgeous and it was wonderful to have so many people come along to see what we are doing here on the farm. The event coincided with the launch of our cheese making which everyone got a chance to sample. We were also delighted that Tessa Munt came along to see what we are doing here and opened the new farm shop".
The farm shop has been created from a redundant wooden horse box. Ian replaced the rusty roof, gave it a fresh lick of paint and fitted some recycled patio doors.
Tessa Munt, MP, who officially opened the shop, commented " This is the nicest piece of ribbon I've ever had to cut " as she cut through the baler twine. "I'd like to congratulate both of you (Ian and Sarah) on the work you've done and I declare this amazing farm shop 'open'."
Ian said "The farm shop is a great addition to the farm and with our range expanding more and more, it provides a central point for our campers and the local community to buy our products."
At Wookey Farm they make goats cheese, yoghurt smoothies as well as pasteurised goats milk. In addition to this, they sell pork and sausages from their rare breed pigs, lamb from their flock of Jacob X Suffolk sheep and meat from the goats. They only sell produce from their farm so all produce is subject to availability. You can see more details on their web site www.wookeyfarm.com or call them to check what they have in stock. They welcome visitors to the farm to see the animals and visit the shop.