In 2009, Ian and Sarah visited the CAT centre (Centre for Alternative Technology) in North Wales and were totally inspired by what we saw. As well as massive, industrial size projects, there were also plenty of ideas of what you could achieve at home. We came away with all sorts of big plans about what we could set up on the farm as well as a new way of thinking and doing everyday things.
Some are still pie-in-the-sky ideas, some future plans and some we've managed to achieve. Have a read through some of our thoughts and feel free to contact us with other ideas or if you want to know more.
What we've done: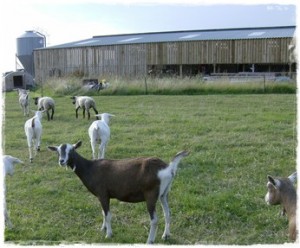 We've built our first barn from wood, the base is recycled crushed concrete from a local farm
We use water from a home-made well to feed the goats
We recycle any farm plastic
We try to grow our own veg (and meat!)
The campsite is a low impact site with no roadways or concrete shower blocks.
Grass pitches, as we're lucky enough to be a dry site
We have installed PV solar panels (fitted by this fantastic company Solar sense) on the south facing roof of our barn to provide electricity for the farm and campsite (during daylight hours) with the excess feeding into the national grid via Good Energy
Planted 2.5 acres of native woodland trees (approx. 1600 trees). We received a grant from the Woodlands Trust to plant three areas of woodland.
There are now 3 bins on each camping pitch to make it easier for us and campers to re-cycle. 1 for all the recycling, 1 for landfill and a small brown bin for food waste.
We've built compost loos for the campsite, the 'compost' gets added to our goat manure heap, composts for up to 2 years and is then spread on the fields to help the grass grow. The grass then feeds the goats and sheep, who then produce milk and meat for us to eat. And so the cycle begins again..
Installed an electric car charging point (2013)
We use a company called 'London Bio-packaging for our cheese pots and smoothie bottles. Everything they supply is either made from recycled material or can be recycled.
We've created a wildlife pond which is filled by water via a pipe from the roofs of our buildings
What we hope to do:
Make a solar shower for the campsite
Reuse greywater from home for our veggies and handwash water from compost loos for surrounding shrubs
Harvest rainwater from the barn roof for the animals
Be self sufficient!
Share distribution deliveries with others to reduce carbon emissions
Straw bale building…
Create a wildflower meadow
Create some interesting tunnels and dens from living willow
Coming soon:
We have been lucky enough to get planning permission for a farm house. So we hope to super energy efficient house (possibly down the Passivhaus route) with as much re-cycled materials as possible (like beams, floor joists, floor boards, roof tiles, bricks and stone).