Following the non stop rain in 2012, we're hoping for a brighter 2013. Signs of spring are already appearing at Wookey farm . Grass growing, daffodils are out and new life on the way. Here's whats new…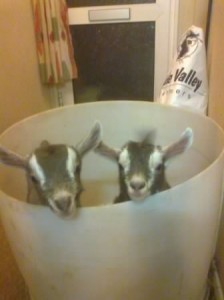 The first kids of the year have been born. With plenty more due at the end of March.
The compost loos are moments away from being finished, just need to get the water connected and put up some curtains.
A new pipe has gone in to take rainwater and surface water down to our wildlife pond – currently piles of earth everywhere but hopefully when we've got all the pipes in, we can get all back to normal.
Will has come to work for us, helping out with goats.
And of course our second little boy was born on 12th Jan.
Ali, our 2 year old, finally got around to learning to walk and is now "helping" with the goats.
Look forward to seeing campers old and new this year..