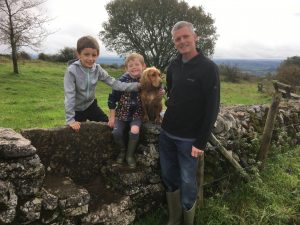 Ian and Sarah both grew up on farms and are delighted to now be running their own dairy goat farm. Ian grew up, worked and was a partner on his family's dairy farm in Wales. During those years he became interested in dairy goat farming and arranged to do some work experience with the goat milking herd at the National Institute for Research in Dairying, Shinfield, Reading. The seed was sown but it wasn't until he met his lovely, like-minded wife that the dream became a reality!
Sarah grew up on her small family-run farm in the Brendon Hills in Somerset. The family farmed a beef suckler herd, grew crops and let grass and stables to local farmers. Her mother always kept one or two goats and so Sarah needed no convincing as to the merits of keeping them. What more could a wife ask for than scores of kids born every year!
Although we both like to muck in with most jobs, in general Ian and Sarah run the farm together, Ian runs the camp site and Sarah makes the cheese and other products.
And of course we have 2 cheese maker/goat herder apprentices in the making: Our lively boys – Ali and Ed.
Interested in visiting the farm? Why not come and camp and see first hand what we're up to. Click here for camping.