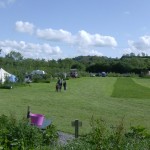 Please read all of this page before making your booking!! For more information on pitches, click here
Our camp site is open from end of March through to the beginning of November each year and online bookings can be made at any time of the year.
Groups – You can only book up to 4 multiple pitches for yourself and family or friends as we aim to provide a quiet, peaceful, friendly campsite for relaxation.
We do not take whole site or group bookings over 4 pitches.
Fees start at £16 for a small pitch, £20 for the meadow field and £23 for the large pitches on campsite 1 – covers 1 unit (ie 1 tent or 1 caravan), 2 people, 1 car, awning.
Children under 4 are free.
£5 per extra adult, 16 years and over. Max 4 adults per pitch to avoid large groups as we aim to be a peaceful site.
£3 per extra child 4 – 15 years.

£2 per extra car

£2 per dog
Miniimum £5 for electric hook up which are now pay-as-you-go meters. No electric hook up on the 4 smaller round pitches (6,7,8 and 15) or meadow field
£5 for a Gazebo
Some information
We do not have showers!

Minimum 2 nights at weekends and during the months of July and August and 3 nights on bank holiday weekends.
We ask for full payment at the time of booking. If you need to cancel, please give us at least 14 days notice and a 50% refund will be returned to you.
Campsite 1 – We have 11 large pitches with electric hook ups available and 4 smaller pitches for tents only with no electric hook up and no vehicle access.
Campsite 2 – Open meadow field where you choose your own space
Campfire areas are available between the large pitches and there is a dedicated campfire area for use by pitches 6,7,8,15.
Campsite 2 – large communal campfire area or bring your own firepit. Please don't burn lots of holes in our field.
Pitches are available from 2pm on the day of arrival and up to 12 noon on the day of departure. Please ask if you would like to arrive earlier or stay longer on your day of departure. This is not normally an issue outside of peak times.
Farm shop on site so do look to see what we have available: farm shop
The rules – We don't believe in too many rules and want everyone to have a fun and enjoyable stay on our farm so :
Please keep dogs under control and clean up after them.
Please keep noise to a sensible level, particularly after 8pm. We welcome accoustic music around the campfire but no stereos or amplified music/instruments, car radio's please.
Loud talking/laughing into the late hours could drive your neighbour bonkers. Please be aware of others that may be trying to sleep.
We do our very best to re-cycle as much as we possibly can on the campsite. All pitches on campsite 1 have three bins available, landfill, re-recyclable items and food waste. There are easy to use recycling bins on campsite 2. We go through all the landfill waste so please help us make the job easier and more pleasant by separating and not adding food waste to the landfill bins – There's nothing worse than trying to sort through waste covered in baked beans!
If you would like to stay outside of these dates then please give Sarah or Ian a call and we can accommodate you on the farmyard near the animals or campsite 1 if it's dry.
If you have any special requirements then please call/email before booking and we can discuss how to best meet your needs.
Contact:
Sarah and Ian Davies, Wookey Farm, Monks Ford, Wookey, Wells, Somerset, BA5 1DT
Tel: 07779 145441
[email protected]
Be sure to look at our Directions page. Our postcode only works on new and updated sat navs and there are some narrow lanes leading to river fords which aren't suitable for vehicles. Please access Wookey farm via Wookey village.